Pets as Therapy
"The Caring Companion scheme is a Federal Government initiative to bring a little joy into the lives of elderly residents of nursing homes in Australia, by giving them contact with friendly dogs when they can not have their own animals with them."

"Freya at 10 months"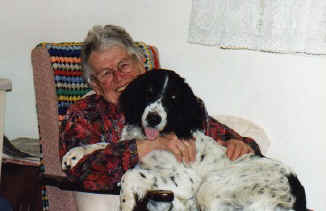 Nearly three years ago I read an advertisement in the South Australian Canine Journal requesting volunteers with their dogs to join the "Caring Canine Scheme" . At the next show I went and spoke to the organiser Josephine Eatts from The Golden Retriever Club of SA Inc. She explained how the scheme worked and said that there was an information leaflet that she would send to me and some forms if I wished to participate.
In the leaflet it explained the dogs had to be "a well behaved, clean, people loving canine companion". So far that sounded just like my dogs....so I read on. Any breed could make a successful visitor, as long as they are people friendly, responsive & happy, clean and well groomed, preferably well socialised and used to being indoors, without being boisterous. In some rooms the dogs are required to dodge, wheelchairs or frames, beds, chairs other furniture and medical equipment, for this reason the must be used to being indoors.
Obedience training is desirable but not essential, and the odd party trick like
shaking hands always brings a smile.
"Kyle enjoying a pat"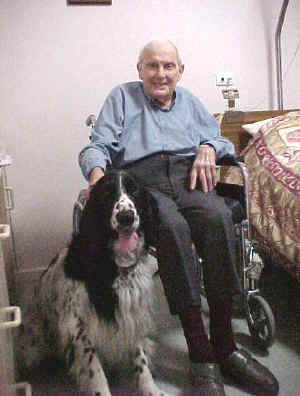 The closing statement reads: A dog that is attentive, responsive to and interested in people, well behaved, obedient, clean, friendly and happy without being boisterous, whether small or large, has a place in our Scheme Team" .......So far so good I decided to give it a go!
My first visit was a very nervous one, I had been given the name of the activities director, who was going to show me around. I was the first person to "visit" the nursing home so it was new experience for us all. After meeting with the director and several of the nurses they decided Kyle was just what they were looking for. Now for the residents......the first one we met was almost 90, he was in a wheelchair in the sunroom, with his wife at his side. He was silent and not reacting at all to the world around him. The nurse introduced Kyle and I to him. Kyle walked straight up to him and placed his head on his lap. With that he smiled...... the nurse said she wished she had camera. It was not until we were away from the pair she explained how she had not seen him smile for months, most of the time he did communicate he was wishing to die. It nearly brought a tear to my eyes, what had seemed a simple little smile was much much more important. Kyle had made a difference to this man if only for a minute.
"Freya having a cuddle"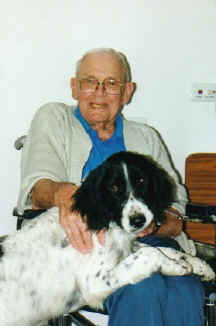 Since that day I have taken five dogs to the home on different days, Britta, her son Kyle, and his daughter Freya are my most common visitors, all are well loved by the residents and the nurses.
Visiting the homes is a rewarding pastime, although some days can be tough, the joy you are bringing the residents far out ways the sad days. Large Munsterlanders do make good visitors, but you need to match the correct dog with the situation, often older Munsters are better as they are more settled, however youngsters such as Freya go well if they are started early, Freya's first visit was at 16 weeks, now she is a veteran.
If you are interested in either becoming part of the scheme or getting a dog to visit a nursing home more details can be gained by contacting the Golden Retriever Club of SA inc, for South Australians. Similar schemes would be held in most states of Australia. Details of these clubs should be available from the Canine Association in that state.
For more information click on the Caring Canine Companions logo under the pictures of Kyle.
More pictures of Kyle:

Golden Retriever Club of SA Inc - Caring Companion scheme.
GOLDEN RETRIEVER CLUB OF
SOUTH AUSTRALIA Inc

CARING CANINE COMPANIONS

A FRIEND IN NEED IS A FRIEND INDEED
A Federal Government initiative, funded for residents of approved nursing homes

THE COMMUNITY VISITORS SCHEME

For further detailed information the contact is
Mrs Josephine Eatts, P.O. Box 704, Willunga, SA 5172,
fax/phone (08) 8556 2592, email jjeatts@chariot.net.au